New York, Baby!
Way back in 2015, Amber and I went on a very short trip to New York, to stay with the wonderful Kathleen and Blaise. We didn't get a chance to do much sketchbook drawing, but i did get a chance to draw this quick snippet of Grand Central station. Note my usual habit of starting off the drawing at completely the wrong size so being unable to fit this in. We were sat on the steps of the main ticket hall and so many people came to look over our shoulders. They were all very nice, saying things like "Oh wow!" and "I wish I could draw!" But it struck me as a marker of cultural difference as no-one come up to talk to you in London.
A Trip to the V and A
I've been going to the Victoria and Albert Museum on drawing trips since I first moved to London about 10 years ago, and I still feel like I've barely scratched the surface! There is so much to see there. The drawing on the left is from the Japanese part of the permanent collection. While drawing this I realised how similar in shape samurai helmets are to american firemen's helmets. The one on the right is from one of the statues in the first galley, as you enter from the subterranean entrance.
More from that first Gallery in the V and A. The one below was a pencil drawing on-site that I added the watercolour to later. It give the piece a nice mixed – media look.
Edward Burne-Jones at Tate Britian
I didn't know mucch about Edward Burne-Jones befor I went to see the exhibition of his work at Tate Britain last year, but isoon fell in love with his mixture of religious iconography and english myth. He was working at the end of the 19th century. You can find out more about him and the exhibition on the Tate website here.
I thought it would be fun to pair my drawings with the paintings they're from, that way you can mercilessly pick apart all my failings as a draughtsman!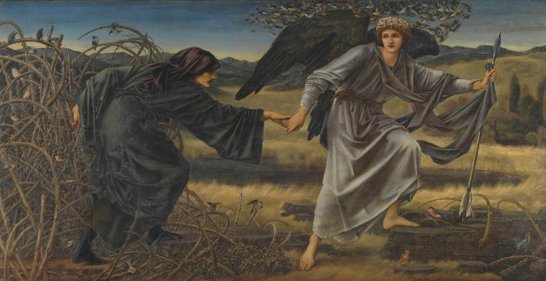 My life-drawing tutor Susan told me about a technique the old disney animators used. They'd do a quick two-minute sketch in the top corner of the subject in question, that way they can make sure the proportions and the composition looks right. This is what I did in the sketch on the right.
Additionally, I'm a big believer in getting your drawing hand warmed up before you can really hit your stride. When I used to play the trumpet ( short-lived, disapointing results, don't ask) people wold talk about 'getting you lip in.' Meaning your lips could only maintain the corrdect tension and shape before the muscles around your mouth would start to ache and you'd make a terrible sound.
The more you played, the stronger those muscles would get and the longer you could play. In my experience, you have a golden period when drawing when it feels like you're an observational genius and you could go on for hours, then your hand starts to ache, or you get tired and the connection between your eyes and your hand gets worse and you make a horrible warbling parping sound. Oh wait that was the trumpet again.
I'm happy with the drawing of the prone figure here – but I think my hand was slipping when I tried to draw that angle. It wa time to pack up my sketchbook and go home.
I'll leave you with this quick sketch I made of the view from the staff canteen at the Tate Modern.